27 Jul

The Chaplin Years – Volume 4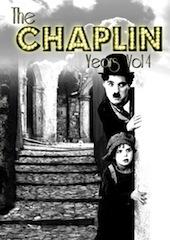 Click here to watch The Chaplin Years – Volume 4 now
"The Adventurer" – Charlie escapes from prison. After rescuing a girl and her mother from drowning, Charlie is invited to their home where a big party is held and he is treated like a hero. However, as a result Charlie's photo is printed in the newspapers and the prison guards come after him.
"The Cure" – Charlie goes to a spa to dry out, but he takes a trunk of liquor with him. He tangles with another's gouty foot in a revolving door. Later he thinks the gouty man is making love signs to him (he doesn't Edna, the real object of the man's efforts), so he signs back. He interpets a massage to be a wrestling match. When management throws his liquor into the fountain, when flow the healthful waters, everyone gets drunk.
"Mabel's Strange Predicament" – In a hotel lobby an inebriated Charlie runs into an elegant lady, gets tied hup in her dog's leash, and falls down. He later runs into her in the hotel corridor, locked out of her room. They run through various rooms. Mabel ends up in one of an elderly husband where she hides under the bed. Enter the jealous wife and Mabel's lover.
"Easy Street" – When Charlie the Tramp wanders into a mission he is smitten by Edna and puts back the collection box which he has taken. Reformed, he becomes a policeman and is assigned to rough-and-tumble Easy Street. Unable to trick or beat Eric the Tough, he puts Eric's head in a gas pipe and anesthetizes him. A hero, he now helps many poor people living on Easy Street. Eric escapes jail, Edna is kidnapped, but Charlie (recharged after sitting on a doper's needle) conquers all. Easy Street is transformed as is Eric.
"One A.M." – After a night on the town, Charlie comes home to the house where he is staying, drunk and unable to find his key. For the next twenty minutes he staggers into, out of, and through the house in an inebriated confrontation with the house itself.
"A Fair Exchange" – Charlie and his wife are walking in the park when they encounter Ambrose and his wife. The partners become fond of their counterparts and begin chasing each other around. A policeman looking for a professional Don Juan becomes involved, as does a Turk.