27 Jul

The Chaplin Years – Volume 3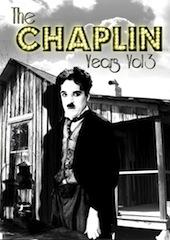 Click here to watch The Chaplin Years – Volume 3 now
"The Vagabond" – After passing the hat and taking the donations intended for German street musicians Charlie heads for the country. Here he finds and rescues a girl from a band of gypsies. The girl falls in love with an artist whose portrait is later seen in a shop by the girl's real mother. The mother and the artist arrive in a chauffeured auto and offer Charlie money for his services, money which he rejects.
"The Fireman" – Charlie is a fireman who always does everything wrong. A man talks the Fire Chief into ignoring his burning home (he wants the insurance money) unaware that his daughter (the love of the Chief) is upstairs in the house. When the house next door catches fire its owner rouses Charlie who rouses the force.
"The Fatal Mallet" – Charlie throws a brick at a man and woman and gets it thrown back at him. The rivals fight. The lady leaves with a third suitor. Charlie finds a wooden mallet with which he subdues both rivals, locking them in a barn. He kicks the lady who instantly falls for him.
"Behind The Screen" – Three movies are being shot simultaneously and Charlie is an overworked scene shifter. The foreman is waited on hand and foot until all the shifters but Charlie go on strike. A girl looking for work pretends to be a man and helps Charlie. Charlie discovers her gender and falls in love with her. The foreman thinks they are homosexual and in the ensuing fight they become involved in a long pie throwing scene from one of the movies in production. The frustrated workers dynamite the studio.
"The Immigrant" – Charlie is on his way to the USA. He wins in a card game, puts the money in Edna's bag (she and her sick mother have been robbed of everything). When he retrieves a little for himself he is accused of being a thief. Edna clears his name. Later, broke, Charlie finds a coin and goes into a restaurant. There he finds Edna, whose mother has died, and asks her to join him. When he reaches for the coin to pay for their meals it is missing (it has fallen through a hole in his pocket).
"Twenty Minutes Of Love" – Charlie is amidst a number of loving couples in the park. He parodies one couple by embracing a tree. A girl asks her beau for a love token. The beau steals a pocket watch from a sleeping man, Charlie gets it away from him and gives it to the girl. He later gets it back and tries to sell it to his original owner who calls a policeman. Many park visitors wind up getting tossed into the lake.