27 Jul

The Chaplin Years – Volume 2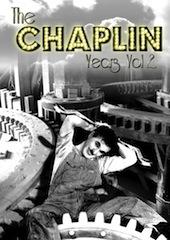 Click here to watch The Chaplin Years – Volume 2 now
"His New Job" – Charlie is trying to get a job in a movie. After causing difficulty on the set he is told to help the carpenter. When one of the actors doesn't show, Charlie is given a chance to act but instead enters a dice game. When he does finally act he ruins the scene, wrecks the set and tears the skirt from the star.
"The Champion" – Walking along with his bulldog, Charlie finds a "good luck" horseshoe just as he passes a training camp advertising for a boxing partner "who can take a beating." After watching others lose, Charlie puts the horseshoe in his glove and wins. The trainer prepares Charlie to fight the world champion. A gambler wants Charlie to throw the fight. He and the trainer's daughter fall in love.
"The Face On The Bar Room Floor" – The plot is a satire derived from Hugh Antoine D'Arcy's poem of the same title. The painter courts Madeleine but loses to the wealthy client who sits for his portrait. The despairing artist draws the girl's portrait on the barroom floor and gets tossed out. Years later he sees her, her husband and their horde of children. Unrecognized by her, Charlie shakes off his troubles and walks off into the future.
"A Woman" – Mother, Father and Daughter go to the park. The women dozes off on a bench while the father plays a hide-and-seek game with a girl, blindfolded. Charlie leads him into a lake. Both dozing ladies on the bench fall for Charlie and invite him for dinner. The father returns home with a friend. Charlie rushes upstairs and dresses like a woman, shaving his moustache. Both men fall for Charlie.
"The Count" – Charlie burns a count's trousers while ironing them and is fired. The tailor finds an invitation to dinner at Miss Moneybags and goes in place of the count. Charlie goes to the kitchen of the same house; he is attracted to the cook, and so are the butler and a policeman. Once discovered by the tailor-count, Charlie must pretend to be the count's secretary. The real count shows up.
"His Trysting Place" – Charlie's wife sends him to the store for a baby bottle with milk. Elsewhere, Ambrose offers to post a love letter for a woman in his boarding house. The two men meet at a restaurant and each takes the other's coat by mistake. Charlie's wife thinks he has a lover; Ambrose's believes he has an illegitimate child.