28 Sep

School of Horror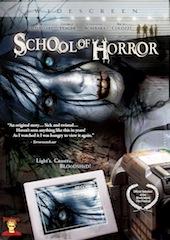 Click here to watch School of Horror now
"Everything has been done." Enter the School of Horror.
ROCKY leads his small troop of fellow filmmaking classmates out on a night on the town, including new roommate JACK TERRI. Their journey leads them to DOREY'S TAVERN, unaware that the cannibalistic savage spirit, the GREAT CHINO, terrorizes this hole in the wall bar every seven years. And tonight, the GREAT CHINO has returned, hungry for flesh. As the creature unleashes its terror on the group and the drama unfolds, Rocky embraces the horror of his situation and sets out to record every live moment on camera.
ROCKY uses his overbearing personality and methods of coercion to force the others into perilous situations in order to satisfy his hunger for capturing carnage on tape. Only JACK TERRI stands in his way, struggling to keep ROCKY'S insane, obsessive quest for filmmaking infamy from destroying them all.