28 Sep

Review – The Lady Vanishes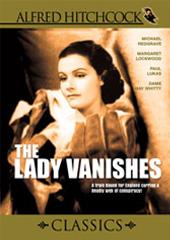 FlixFling contributor, Alexandra Gibson reviews The Lady Vanishes
And yet again, the film directed by Hitchcock is the best one I've seen in quite some time.  The Lady Vanishes surpasses even the half dozen other early Hitchcock's I've watched on FlixFling.  This film was simply wonderful.  The bulk of the action takes place on a train speeding through Europe.  Before the train leaves, we meet a cast of characters whose humor and eclecticism rivals those in Murder on the Orient Express or Grand Hotel.  On the train, the riding companion of a young affluent woman, Iris, mysteriously disappears and no one on board recalls ever having seen her. From there, Iris and her enemy-turned-partner Gilbert doggedly search for the missing Ms. Froy.
For the first ten minutes, up until a side character gets creepily murdered, The Lady Vanishes seems like a comedy. Even after the intrigue really starts, the characters keep you laughing. The tone is driven by superbly smart and sharp writing and the potent chemistry between the characters, from the two pals who just want to get to a cricket match to the "married" couple trying to figure out how best to divorce their spouses back home.
The best and most entertaining pair is Iris and Gilbert, she a pampered debutant and he a cheeky musician. Through the movie, they search the train extensively and find various clues.  This would have been entertaining enough, but their obvious chemistry and frequent needling add to the momentum of each scene. While you are focusing on their conversation, something spine-tingling will come out of nowhere.  By the end of the film, all I wanted was for it to continue.
No ifs, ands, or buts about it.  Watch The Lady Vanishes.