13 Jul

Review – Sabotage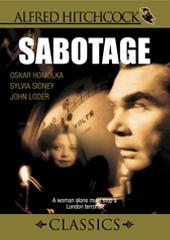 FlixFling contributor, Alexandra Gibson reviews Sabotage
Another early Hitchcock film, Sabotage is about, well…sabotage.  Set in 1930s London, the story revolves around the search for a terrorist and the young woman who is unwittingly involved.
The film begins during a citywide blackout.  Though it is originally called an act of God, Scotland Yard claims that the saboteurs are trying to distract British authorities from conflicts abroad.  Exactly who these saboteurs are is never really explained; it is definitely a hazy point in the plot, much of which you've already seen if you have ever watched film noir.
Sabotage holds true to many Hitchcock hallmarks.  The climactic sequence is especially suspenseful; he really kicks the edge-of-your-seat factor up a notch.  The film is a refreshing change of pace in a couple ways – and I am not just referring to the cute Walt Disney cartoon inserted in the middle.  When the protagonist in most films like Sabotage would be a hardened sleuth or naïve male bystander, the main character this time is a woman.  Even more refreshing, she is not the gorgeous, tall blonde that he usually casts, but an average woman trying to make sense of the web she is caught up in.
All in all, Sabotage is no Psycho, but at a little over an hour, it is a quick and satisfying way to get your Hitchcock fix.
*Clip from the movie