13 Jul

Review – Royal Wedding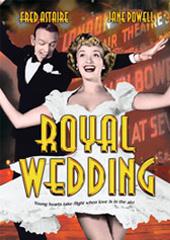 FlixFling contributor, Alexandra Gibson reviews Royal Wedding
Royal Wedding was a delightful surprise.  In it, Fred Astaire and Jane Powell play Tom and Ellen Bowen, a brother and sister dancing duo who sell out shows across the country.  After their show in New York ends, the two are booked to perform in London during the month leading up to the Royal Wedding.  Naturally, by the end of film, the royals are not the only ones being wedded, as the American find their romantic matches across the pond.
When I realized that Royal Wedding, made in 1951, boasted an older Fred Astaire, I was more than a little worried that I wouldn't see the lithe dancer that enchanted me in Top Hat, made in 1936. I was pleasantly mistaken.  True, his numbers with Ginger Rogers are far superior to those with Jane Powell, which actually get creepy because they're siblings playing spouses.  However, there are a couple really well done routines that Astaire performs alone, both of which prove that he still had it, even at 52.
While Astaire outshines Powell in the dance numbers, her character has the far more interesting romantic entanglement.  She meets her beau, played by a young pre-Rat Pack Peter Lawford, while crossing the Atlantic.  During their first encounter, he is winking at her while kissing one of his two girlfriends goodbye.  Meanwhile, she is bidding a veritable reception line of boyfriends farewell.  Understandably, they find each other kindred spirits and make quite the cute couple.
Royal Wedding has dancing, romance, and a few genuinely heartfelt moments, which makes it a lovely film for a lazy Sunday afternoon.