01 Oct

Review – Rainbow Valley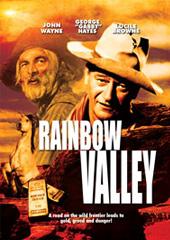 FlixFling contributor, Alexandra Gibson reviews Rainbow Valley
In college, I took this class that was, in part, about the evolution of the American West.  In the class, we discussed the era of the cowboy and the bandit and how it was romantic, but clashed quite clamorously with progress.  If you want to get serious about it, Rainbow Valley is about the death of the Wild West due to progress.  If you don't want to think about it that much – and I'm sure that's how it was supposed to be — it's a fairly standard Western.
Rainbow Valley takes place in the exotic enclave of Rainbow Valley, which is located in an undisclosed piece of American desert.  Rainbow Valley is home to a small town, which is stocked with Western staples – the dapper town leader, the funny old toothless man, the bonny townswoman, and most importantly, a band of outlaws enjoying a reign of terror.  The townspeople want the Sheriff to intervene, but he is regrettably on the other side of the mountain and there is no road leading to Rainbow Valley.  The townspeople repeatedly try to build a road, but the band of criminals keep running off the workers because they know that a road would bring the law and an end to their brutish ways.  The people need a fighter to protect the construction of the road.  And who just galloped into town, but John Wayne!  Never a better fighter there ever was.
Rainbow Valley was a fine Western.  It is interesting to see a young John Wayne, when he was more of a person than an icon.  This film however, though containing plenty of gunfights, lacks the umph of other Westerns.  For example, the outlaws are also trying to get their leader out of prison.  I expected them to rip out the bars on the prison or something.  Instead they sneak into the post office and switch the townspeople's petition for reinforcements with their petition for clemency.  Yep, they highjack a petition.  Nonetheless, Rainbow Valley is a good way to get your Western fix with John Wayne, TNT explosions, and some truly humorous moments.
*Clip from the movie