30 Jul

Review – Nothing Sacred

FlixFling contributor, Alexandra Gibson reviews Nothing Sacred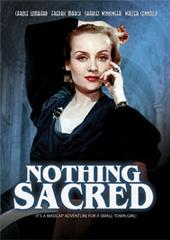 After being exposed as a fraud, New York reporter Wallace Cook is on the hunt for a gripping story to put him back on top.  He thinks he finds it in Hazel Flagg, a Vermont woman dying of radium poisoning.  Unfortunately, Hazel learns that she is in fact perfectly healthy right in time for Wallace to arrive in Vermont.  However, that doesn't stop her from accepting a trip to New York, where the newspaper touts her as a heroine.  This is the plot of Nothing Sacred.  It is a screwball comedy with all the hallmarks of screwball comedies: romance, over exaggeration, and completely avoidable shenanigans.
That's not to say that Nothing Sacred wasn't entertaining.  The hullabaloo that meets Hazel in New York City is so over-the-top that it works and makes the characters' actions more understandable.  As the not-quite-near-death heroine, Carole Lombard is slightly annoying, but charming overall. Frederic March does very well as a leading man, especially as he comically hits his fiancée to sell her story.  Like in so many screwball comedies, the tag-along, often-irreverent doctor is one of the most humorous characters.
Nothing Sacred is certainly screwy, but, in my opinion, everyone should set time aside for a good screwball comedy.  Appreciate them; they don't make them like they use to. So grab a friend and check out Nothing Sacred. And when you watch, keep an eye out for a familiar face in the general store!