23 Jul

Review – His Girl Friday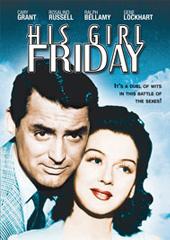 FlixFling contributor, Alexandra Gibson reviews His Girl Friday
In His Girl Friday, Cary Grant stars as Walter Burns, an ardent newspaperman who is fighting and scheming to get his lead reporter to stay with the paper.  Of course, his motivation is not strictly professional, since his lead reporter and the personification of chutzpah, Hildy Johnson, is also his ex-wife. Played by Rosalind Russell, Hildy is trying to leave her newsprint roots behind to get re-married to the tame insurance salesman Bruce Baldwin, played by Ralph Bellamy, who could get his girl stolen better than anyone in Hollywood.  And that's exactly what happens; throughout the film, Walter lies, cheats, and hoodwinks to get Hildy back, for the sake of his heart and career.
His Girl Friday is also particularly good because its leading lady has not only bucket loads of gumption, but also a stunningly successful career.  She makes a living in a "man's profession" and kicks butt, which is a very nice change from the common socialite-type female leads that often graced the pre-WWII screens.  Along side her, Cary Grant is at his best.
His Girl Friday is the crème de la crème of old Hollywood comedies.  The best aspects of comedies of this time are dapper leading men, wickedly dressed ladies, and zingers that go back and forth at a mile a minute.  His Girl Friday has all of these in spades, but with the team that gifted us with Bringing Up Baby, so you would expect nothing less.