14 Dec

Review: Guns 'N Roses: Sex 'N Drugs 'N Rock 'N Roll: Unauthorized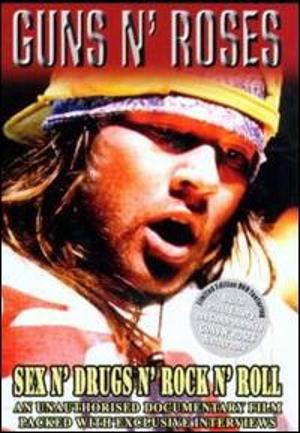 FlixFling contributor Rebecca Raymer reviews Guns 'N Roses: Sex "N Drugs 'N Rock'N'Roll: Unauthorized
Chrome Dreams Video brings a hindsight view of the band, "Guns 'n Roses," in this 2003 documentary.
While focusing on the history of the individual band members and the formation of the band itself, Sex n' Drugs…Unauthorized" also integrates the history of a huge musical movement, described as "metal revival," in Los Angeles, California. Springing forth from an aging hippie sort of metal band era and the budding punk scene, the significance of "Guns 'n Roses" and their sound, attitude, and look is laid out articulately through interviews with people who were involved in the Los Angeles rock club scene at that time.
A newly implemented system of accessing venues in Los Angeles (known as pay-and-play) inspired the members of GNR to passionately market themselves to the people. Their dedication and enthusiasm, as well as their music, attitude, and joy in performing, helped to push the band further along in the scene until a music publication (Music Connection) featured them on its cover.
The cover article generated a large amount of exposure, and GNR were signed shortly after. The failures in early album compilations and public images could not hinder their unique sound, which penetrated the arena of mainstream consumers in the United States. In addition to their musical talent, Axl Rose's pretty face also gave the band the benefit of looking great in the newly developing music video market.
The band itself has only one original member today, but this documentary explains how the early incarnation of Guns 'n Roses changed the world, and demonstrates the lingering aspects of their influence. Concise and well-made, this film is worth watching sans any of the band's actual music; it is an unauthorized work that is interesting and informative, not only about Guns 'N Roses, but also about a historical transition in the very fabric of rock music.
Watch Guns 'N Roses: Sex 'N Drugs 'N Rock'N'Roll: Unauthorized now on FlixFling