06 Aug

Review – American Graffiti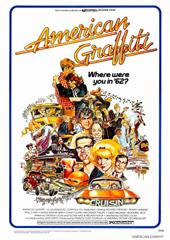 FlixFling contributor, Jordana Lipsitz reviews American Graffiti
I have a problem with coming of age stories. More specifically, coming of age stories that involve the last night of high school and the crazy characters involved.  Knowing that American Graffiti was the mother of all coming of age stories, I was not very excited to watch it and was expecting to hate it immediately.  But, I was wrong. I didn't hate American Graffiti. I nothing'd it. At least while I was watching the movie. It took me a day or so to realize all the things I liked about it. The acting, the themes, and the music choices helped to make me nostalgic for a time long ago without being frustrated.
The most impressive note about the characters was how different and likeable they are. Curt (Richard Dreyfuss), Steve (Ron Howard), John (Paul Le Mat), and Terry (Charlie Martin Smith).  Curt's attempts to fit in with the Pharoah, Steve's relationship issues, John's all-out "cool", and Terry's struggles with women lead to interesting and believable stories.  They were like any guy from any high school that I've met. Even though the slightly fantastic story of Curt and his mysterious lady friend is unrealistic, it makes for a fantastic story.
One of the themes I really enjoyed from the film was the idea of venturing into the unknown.  The group was splitting up by either staying in town or heading northeast.  They had no idea what was to come. American Graffiti shows the fears of the characters in a way we all can identify with.  Each character has a situation that portrays familiar issues: breaking up with a significant other, trying to buy alcohol illegally, getting into drag races, the usual (I lived in a very small town. Don't judge me).
I'm a sucker for the classics. I don't know anyone who hates hearing some good oldies every once in a while.  This movie did such a great job of picking every song ever that could possibly remind me of the 50s.  Using popular tunes instead of an original score made the film much more nostalgic. After watching the movie, I suggest listening to the soundtrack and dancing yourself silly. It'll do you good.