09 Jul

Review – Ace High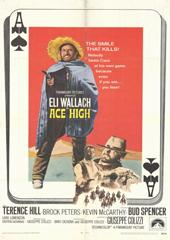 FlixFling Contributor, Yohsuke Araki reviews Ace High
The second of the Cat Stevens/Hutch Bessy trilogy, Colizzi's Ace High is an exciting and fun ride. Like a Leone spaghetti western, this one by Colizzi works in a wonderfully crafted and lit cinematography.  It compliments the typical cool of the quiet loner, Cat Stevens (not to be mistaken for the musician) played by Terence Hill, and along with the cool comes a good amount of jolly humor in the form of Hutch played by Bud Spencer. However, the one who steals the show most is method actor Eli Wallach in his role as the deceptive and enticing Cacopoulos. Fans of The Good The Bad and The Ugly will recognize Wallach from his role as Tuco. Although this film may not reach the same amount of enthusiasm by film buffs as the aforementioned classic, it should not be overlooked by any means.
Unlike many of the spaghetti westerns Ace High's dubbing is pretty much spot on and the blood spillage is toned down quite a bit to make this an almost family friendly film. At times the violence is almost quirky and light hearted. However, all in all the use of violence as a means to perpetrate profit, for better or worse, is always met with pragmatic judgement by both the characters and the viewers. I think that this film could very well be suitable for children of a substantial age to watch. It even has decent moral values about race, gambling, and the faults of deception among friends.
Colizzi's work here shows a great deal of competence, but he still bears the misfortune of being overlooked as a fine director and writer in the genre. The wonderful widescreen panoramas and elaborately designed staging framed by Marcello Masciocchi reals you in to follow the heroes' arrestingly cool outward appearances and cautious yet caring antics through the many great plains of Almeria, Spain. This team of filmmakers should not go unnoticed and with the draw of Ace High comes the draw to watch the rest of the trilogy.