17 Aug

Review – A Farewell To Arms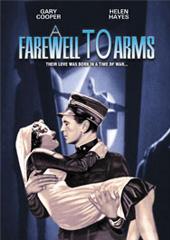 FlixFling contributor, Alexandra Gibson reviews A Farewell To Arms
If A Farewell to Arms were about 45 minutes longer, it would be termed an epic love story.  As it is, it leaves me wanting more, wishing that intimate parts of the couple's relationship were given more space.  Nonetheless, it is a beautiful story of timeless love with great performances, especially from male lead Gary Cooper.
This film takes place during World War I and depicts the relationship between American soldier Frederic Henry and English nurse Catherine Barkley.  In the middle of a war, the two fight for their love, even though their relationship is against regulation and the overwhelming odds are that they will not make it home.  The film gives us a pure and unconditional, Romeo and Juliet-esque love, which Frederic and Catherine quite literally risk their lives for.
Based on the novel by Ernest Hemingway, A Farewell to Arms is simple.  Two people find each other and if it weren't for that pesky World War, everything would be perfect.  There are almost no additional complications.  Other than being in the army and in love, there are almost no additional character traits. It is an old-fashioned idea and old-fashioned romanticism.  However, I found it refreshing to be so swept up in a film that I shared the characters' happiness and pain.  If you like love stories like Shakespeare in Love or epics like Gone with the Wind, round it out with A Farewell to Arms.