18 Sep

Review – Beat The Devil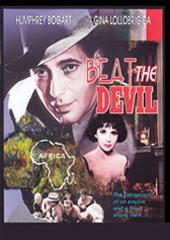 FlixFling contributor, Alexandra Gibson reviews Beat the Devil
When I read the description for Beat the Devil, I could hardly believe it.   The film stars Humphrey Bogart and Peter Lorre and was directed by John Huston.  The last time I saw these three names together, I was watching The Maltese Falcon and it was awesome.  Twelve years after making the noir classic, they reunited for Beat the Devil, a noir satire in which Bogart and Lorre play caricatures of their popular personae.
Beat the Devil takes place, for the most part, in a small Italian costal village.  En route to Africa to complete a shady land deal, Bogart and his associates, Lorre among them, get stranded in Italy when their ship breaks down.   There, an Englishman and his idle wife join the intrigue, while Bogart's wife, played by Gina Lollobrigida, is also along for the ride.  The story gets interesting as Bogart's associates search for ways to get to Africa to get their hands on a plot of land with a hidden fortune.
The film has all the makings of a razor sharp noir – gangsters, a femme fatale, Humphrey Bogart.  And yet, it comes off as a melodramatic dramedy.  That is the best thing about this film.  It feels like Bogart, Huston, and Lorre said 'been there, done that' and decided to have fun with it, playing all their characters to the max and indulging in the jagged twists and turns of the plot.  Bogart was, as always, wonderful but I quite enjoyed Lorre's performance as well. He is always great as the spine-tingling, shadow-cloaked villain, and those roles made his worrisome, bumbling, tag-along villain in Beat the Devil all the more enjoyable.
I strongly recommend Beat the Devil to noir fans and non-noir fans alike.